The brand, which has established itself in the gold market of Saudi Arabia, is now intent on strategic expansion and will soon have a retail outlet in Dubai too
Salem Abdullah Al Ammari's family has specialized in the business of silver and gold for a very long time. In 2002, Dewan Al Dahab Jewellery Co. Llc was established by him in Souq Al Yamama, and by 2010, the brand had expanded to become one of the major bullion companies in the Kingdom, with various products bearing 999.9 and 995 purity. They opened wholesale and retail shops in Saudi Arabia under the names of Al Safeer Jewellery and Palace Jewellery respectively.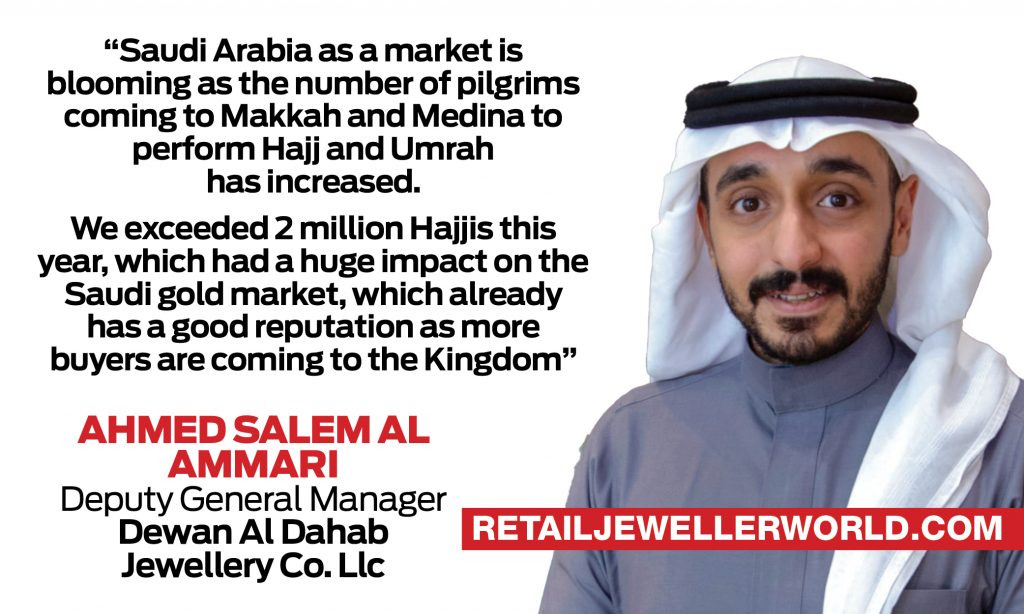 Dewan Al Dahab has managed to achieve dominance in the field of bullion trading in the UAE. In 2013, General Manager Salem Abdullah Al Ammari, Deputy General Manager Ahmed Salem Al Ammari, and CEO Ahmed Moustafa Kasem incorporated the Dewan Al Dahab Jewelry office in Dubai. The company is known to provide clients with services depending on their shipping and customs clearance partners, i.e., Brinks Global Co. and Loomis International Co., and depending on the refineries certified inside the country and Dubai.
Here are excerpts from a conversation The Retail Jeweller had with Ahmed Salem Al Ammari, Deputy General Manager, Dewan Al Dahab Jewellery Co. Llc, about the brand and Saudi's gold market:
How has Dewan Al Dahab Jewellery progressed as a brand over the last couple of years?
Our company started with bullion trading as its main business. We then expanded into jewellery business as a wholesaler and retailer in Saudi Arabia and Dubai. Our 18-karat and 21-karat jewellery is carefully crafted in accordance with various international markets for Dewan to be a gold destination for our clients inside the kingdom. We are known for providing gold coins, bars and bullion, as well as jewellery pieces like necklaces, earrings, bracelets, chains, and much more. We are constantly improving our products and services based on customer reviews and hope to fulfill their expectations.
What are the current trends in the Middle East gold bullion market?
The trend depends on the needs of the particular area of our business. Once you see an opportunity in the market, you must fulfill it. In 2013-14, we started our wholesaler department and factories as we saw high demand for jewellery, especially for gold bangles. We also saw a lot of pilgrims coming to Saudi Arabia, so we kept improving and adding more products to our business to cater to their needs, such as finished jewellery, imported products, and more.
How has the gold and jewellery market evolved in Saudi Arabia in the past few years?
Saudi Arabia has one of the biggest gold and wholesaler markets in the Gulf. This market is blooming now as the number of pilgrims that come to Makkah and Medina to perform Hajj and Umrah has increased. After the COVID pandemic, the past two years saw a lot of pilgrims, which helped gold souqs grow as we exceeded 2 million Hajjis this year. This has created a huge impact on the Saudi gold market, which already has a good reputation as more buyers are coming to the Kingdom.
What are the Saudi customer's sentiments towards gold products?
Buying gold in the form of jewellery, bars, coins and bullion is part of Saudi tradition and they love receiving gold gifts too. This has been embedded in the mentality of the people for a long time, as it is an asset for their families and their future generations. People's preferences have evolved in the past few years, as they are more into small gold bars, personalized gold necklaces and gold coins. We see customers buying these products to gift their loved ones or as an investment on a regular monthly basis, and more so during the wedding season.
What are your future priorities? Do you have plans for expansion?
We are well established wholesalers and retailers in the main hubs of the Middle East—Dubai and Saudi Arabia—through which we are able to sell, export, and import all over the Arab countries as well as internationally. We already have our retail stores and wholesale bureaus in Riyadh and Jeddah and we plan to open more retail stores in the Kingdom, starting in Makkah, Medina and the cities around them, such as Taif, as pilgrims will most likely visit these places for gold shopping after performing their pilgrimage. Additionally, we also plan to launch, for the first time ever, our own retail shops in Dubai.
By Bushra Satkhed
Retail Jeweller World Exclusive
Source retrieved from : https://retailjewellerworld.com/dewan-al-dahab-plans-to-open-retail-stores-in-makkah-medina-and-other-cities-to-cater-to-pilgrims/